Archaeologists at Pompeii have excavated a tomb that not only contains one of the best preserved skeletons found, but also indicates that the Ancient Romans regularly enjoyed Greek theatre performances.
The partially mummified skeleton has been identified as a man called Marcus Venerius Secundio, who staged Greek plays in the ancient Roman city of Pompeii. His tomb bears inscriptions which say he "gave Greek and Latin ludi" – performances.
The Archaeological Park of Pompeii reports that the find is the "first clear evidence that of performances at Pompeii in the Greek language".
Director of the Archaeological Park of Pompeii, Gabriel Zuchtriegel, said:
"That Performances in Greek were organised is evidence of the lively and open cultural climate which characterised ancient Pompeii."
Archaeologists said that the sealed tomb had served as a hermetically sealed chamber that had preserved the body over the centuries. The skeleton still has part of an ear and white hair and some of the clothing fragments are still present.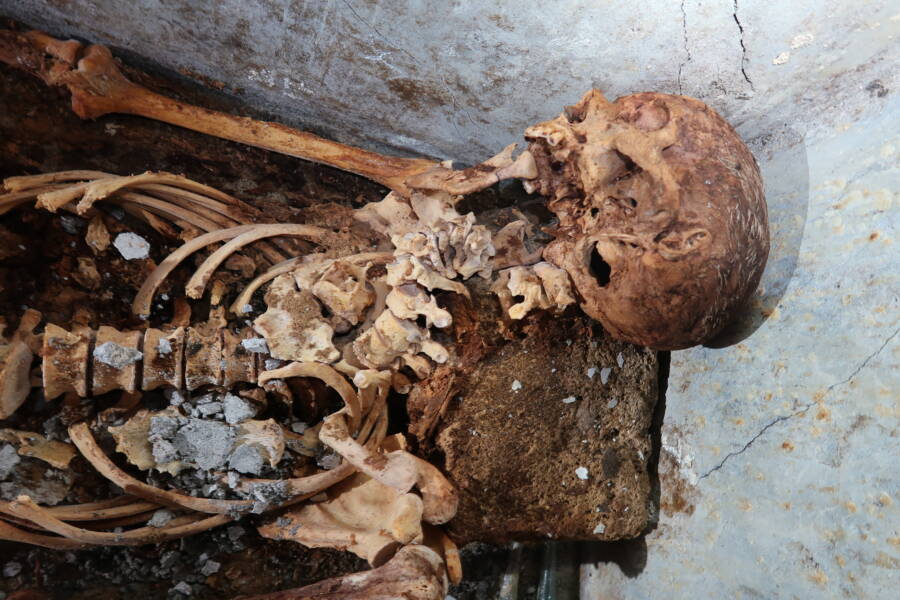 The tomb was uncovered in the necropolis of Porta Sarno, an area of Pompeii not currently open to the public – the tomb dates to the last decades before 79AD when the eruption of Vesuvius destroyed Pompeii.
The archaeologists say that the tomb is "an unusual discover because adult bodies were usually cremated in ancient Rome".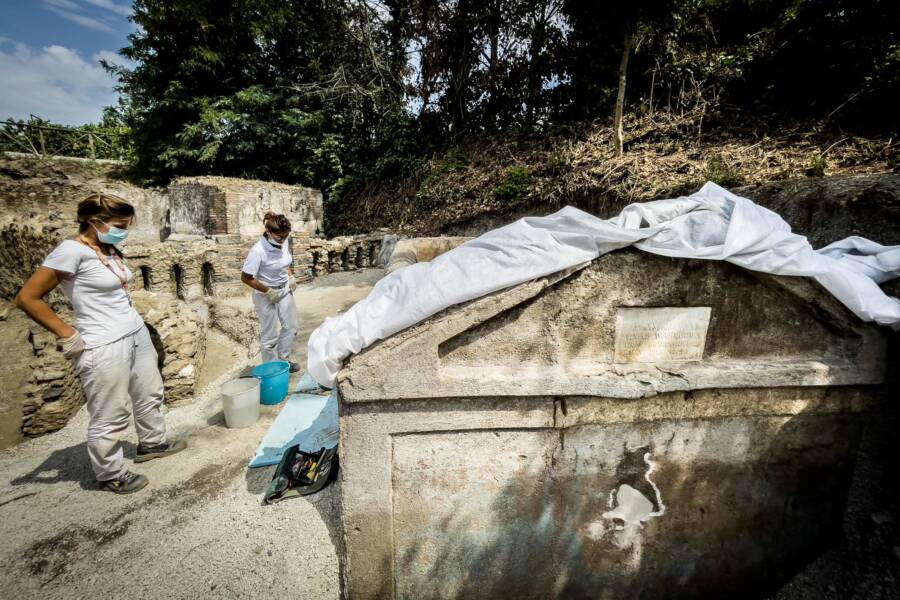 There were also contains two cinerary urns – urns which hold ashes following cremation – one made of blue glass and marked "Novia Amabilis", meaning "kind wife".
The team says that wax tablet records kept by the Pompeian banker, Cecilius Giocondu, record that Secundio "was enslaved and served in the Temple of Venus".
However, he had risen through the social ranks after being freed and joined the imperial cult, the Augustales priesthood.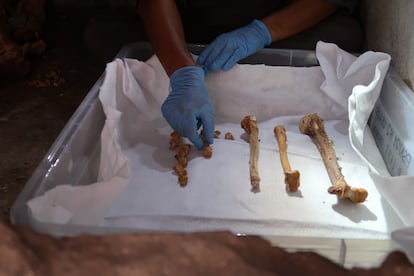 As a slave, Marcus Venerius Secudinio served as a loyal custodian of the Temple of Venus, erected in in Rome in 46 BC.
The temple was dedicated by Julius Caesar to Venus Genetrix, the mother of Trojan hero Aeneas, to whom Caesar traced his own ancestry, establishing himself as being descended not only from the gods, but also from Aeneas, the mythical founder of Rome.
It was Caesar's attempt to establish himself as a ruler in perpetuity by claiming descent from the gods that eventually led to his murder by fellow senators in 44 BC, two years after the temple was built. Secundio therefore lived in Rome during a crucial period in the history of Ancient Rome – the reign of Julius Caesar.
It is known that Secundio died at around the age of 60 and was buried in the large, impressive tomb to reflect his acquired social status.
You can read more about the discovery at the website of the Archaeological Park of Pompeii.