After last week's news that an ancient Roman path had been discovered in Piazza della Rotonda in Rome, Verona is making the headlines this week, after a Roman mosaic floor was found beneath a vineyard outside the city.
Apparently the site was known to have once been the location of a Roman villa, but the perfectly preserved mosaic floor was found just a few feet below the surface of the vineyard, which is situated in the hills above Verona.
The floor is beautifully preserved under the soil – and is extremely intricate and colourful.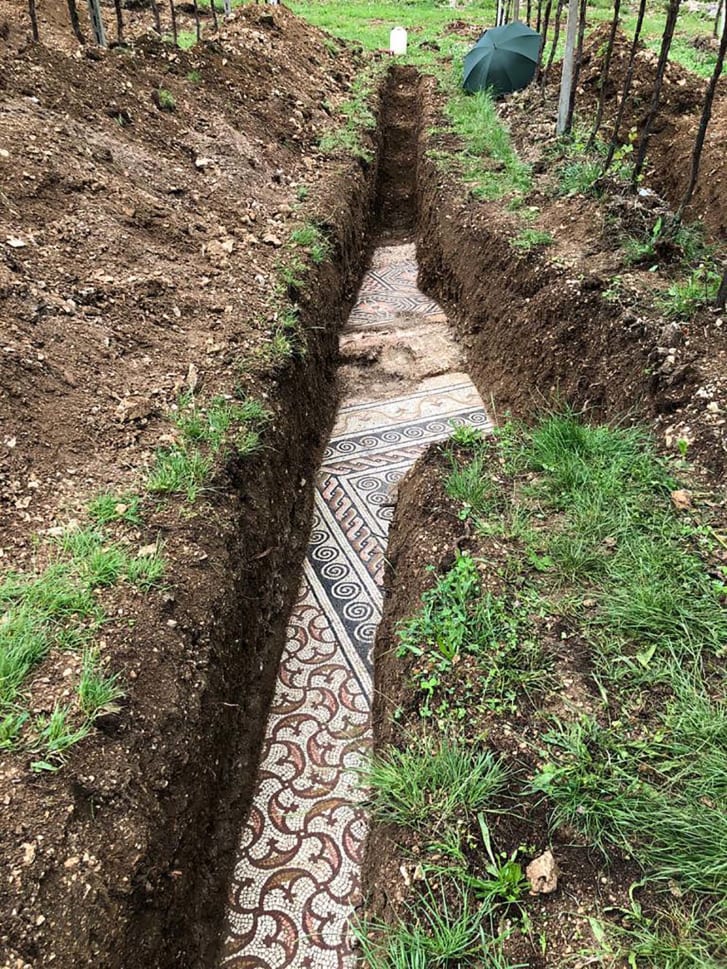 The town of Negrar di Valpolicella, where the mosaic was uncovered, is in the province of the city of Verona – one of the wealthiest regions in Italy.  The town changed its name to Negrar di Valpolicella in 2019 and it lies approximately 12 kilometres from Verona itself.
As befits a town calling itself 'di Valpolicella', Negrar is a centre for winemaking – so the Romans obviously knew what they were doing when they built a villa there.
 Image: C

omune di Negrar di Valpolicella (Facebook)
The floor was discovered beneath ancient vines by archaeologists – it is thought to date from the year 3 AD. The villa was first discovered in the last century, but a full excavation was not carried out, despite several attempts.
The City Council of Negrar is keeping the public informed about the progress of the recent dig on the site via Facebook.
"After countless decades of failed attempts, part of the floor and foundations of the Roman villa located north of Verona, discovered by scholars a century ago, has finally been brought to light," they posted.
Archaeologists are going to try and establish the extent of the site – the fertile soil probably indicates that the Romans may have chosen the area for the purpose of winemaking.
"The result will not come soon and significant resources will be needed," added the city council.
The Mayor of Negrar di Valpolicella,  Roberto Grison, told local newspaper Arena":
"For this reason, together with the Superintendency and the private individuals of agricultural funds, we will find a way to make this treasure enjoyable."
You can read more about the wonderful mosaic floor near Verona at Negrar di Valpolicella's Facebook page.
Verona is a wonderful city to visit – and has stunning scenery in the hills that surround it, plus lots of wineries to visit for some tastings!
Now there is another reason to book a holiday in Italy!
Buon viaggio – and saluti!
Arena di Verona (Image A. Meredith)